Get Rewarded for Your Opinions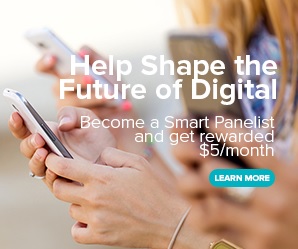 Share With Friends
Date: Apr 24th, 2019
Your opinions and interests matter!
Join Smart Panel today for free and become part of an innovative market research pane that will help influence the future of the online world. How would you like to get rewarded for giving your opinions to companies?
DESKTOP USERS: Click here to sign up!
At Smart Panel, you can help your favorite websites become much more user-friendly, as well as applications you use on a frequent basis. Without the valuable information from consumers like yourself, companies and websites wouldn't know what you wanted. This is where you can be influential.
Help provide valuable insight into what you do online, and by doing so you can help shape the future of the online world. And for this valuable information you will be rewarded. Since you are already doing this, you might as well get rewarded for it.
Sign up today and start earning your rewards.