Bacon Cheese Bites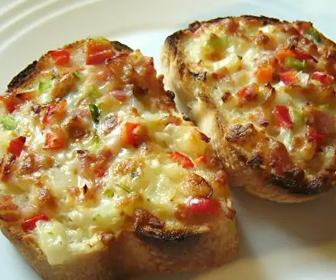 A quick and easy recipe that you can adapt with whatever is in your fridge.
You can freeze them to always have some ready to savor!
Prep time : 10 minutes
Cook time : 7 minutes
INGREDIENTS
1 baguette or italien bread sliced
8 slices raw bacon, finely chopped
1/2 cup finely chopped onion
1/2 cup finely chopped green chili peppers
3/4 teaspoons Worcestershire sauce
3/4 teaspoons dry mustard
2 cups mozzarella cheese
2 tablespoons chopped parsley
PREPARATION
Combine all the ingredients in a bowl.
Cut 2 large pieces of Saran Wrap.
Spread half the preparation on each film, make 2 rolls.
Tighten like a big sausage in the film. Freeze. (Keeps very well in the freezer for up to 6 months)
Slice bread into thin slices.
Butter each piece and put a thin slice of the frozen preparation on each crouton.
Grill in the oven (Broil) far enough from the element until the crouton is golden and the mixture is melted for about 6 to 7 minutes.
Take out of the oven. Spread melted mixture on toasted bread and serve.
NOTES:
To make beautiful slices, run your knife under hot water.
You can also slice a baguette lengthwise.
I prefer to take cooked bacon and also, I don't butter the bread.