BBQ CHICKEN PIZZA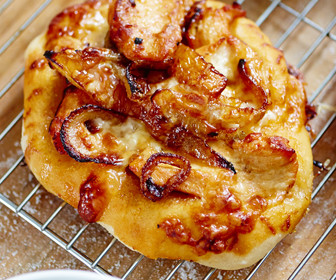 The fresh herbs salad add just before serving gives this pizza a sublime taste!
Prepare the chicken, onion, and peppers ahead of time and set aside to use when you're ready to make the pizzas.
Cut the dough in 4 to make individual pizzas.
Makes 4 servings
Ingredients
Pizza
2 BBQ chicken breasts, cut into strips
Olive oil
Salt and pepper
2 onions, minced
1 sliced ​​yellow pepper
1 rolled out homemade or store-bought pizza dough
1/2 cup (125 mL) homemade or store-bought BBQ sauce
1 cup (250 mL) grated smoked Gruyere (or your favorite cheese)
1 cup (250 mL) grated mozzarella
Fresh herb salad
1/4 cup (60 mL) chopped fresh cilantro
1/4 cup (60 mL) chopped fresh chives
1/4 cup (60 mL) chopped fresh parsley
A drizzle of olive oil
A drizzle of white balsamic vinegar
Salt and pepper
Preparation
In a pan, heat the olive oil and brown the chicken. Transfer to a plate.
In the same skillet, add the onions and peppers and cook until golden brown. Reserve.
Preheat the BBQ or oven to 450 ° F (230 ° C) and a pizza stone, if you have one. (You can also bake this in the oven)
On a floured work surface, with your hands or with a rolling pin, roll out the dough to
make a pizza dough of about 30 cm (12 in).
Spread the BBQ sauce on the dough and distribute the filling evenly, alternating (chicken, onion,
peppers). Top with cheese.
Transfer the pizza to the stone or to a baking sheet lined with parchment paper and bake in
oven 10 to 12 minutes or until cheese and pastry is golden brown.
When ready to serve, drizzle the pizza with olive oil and garnish with the salad of fresh herbs.
Chef's tip
Spread roasted garlic on pizza dough before garnishing. Add chorizo ​​sausage, diced for a little
tangy touch.
Prepare this pizza with ground chicken mixed and cooked with BBQ sauce, sautéed onions, garlic and cilantro. Top the pizza with it, cover with cheese and put it in the oven!