BLUEBERRY AND MAPLE SYRUP POOR MAN'S PUDDING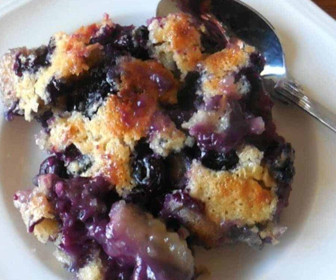 Two delicacies combined in a classic is a guaranteed crowd pleaser!
Servings 4
Ingredients
Pudding
1 1/2 cups (375 mL) flour
1/2 tsp. baking powder
1 pinch of salt
4 tbsp. butter, at room temperature
1 cup (250 ml) sugar
1 cup (250 ml) milk
1 cup (250 mL) blueberries
Caramel
1 cup (250 mL) maple syrup
1 cup (250 mL) brown sugar
1 cup (250 mL) boiling water
Preparation
Caramel
In a saucepan, bring all the ingredients to a boil and set aside.
Pour this caramel on the cake batter.
Pudding
Preheat the oven to 350 ° F (180 ° C)
In a bowl, combine the flour, baking powder, and salt.
In another bowl, beat the butter and stir in the sugar.
Alternately, pour in the flour and milk until all the ingredients are used up.
With a spatula, incorporate the blueberries.
Pour this mixture into a buttered Pyrex dish.
Bake for 35 minutes.