Carrot Cake Cookies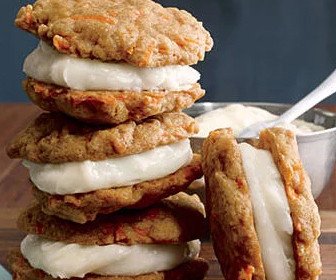 Never mind the traditional carrot cake. Treat yourself to these delicious carrot cake cookies!
Ingredients
2 cups grated carrots
2/3 cup packed brown sugar, divided
1/4 cup unsalted butter, divided
2 tablespoons canola oil
1 teaspoon orange zest
3/4 teaspoon vanilla extract, divided
1 large egg
4.5 ounces all-purpose flour (about 1 cup)
1 teaspoon ground cinnamon
3/8 teaspoon salt, divided
1/4 teaspoon of baking soda
4 ounces cream cheese, softened
1 cup caster sugar
Preparation
1. Preheat the oven to 350 °.
Cover 2 baking sheets with parchment paper; put aside.
2. Mix the carrot and 3 tablespoons of brown sugar in a bowl; stir to coat. Place the carrot mixture in a fine mesh screen; let stand to drain for 10 minutes. Discard the liquid.
3. Place 2 tablespoons of butter in a microwave power bowl for 45 seconds or until melted.
Add oil, zest, 1/2 teaspoon vanilla extract, and egg to melted butter; stir with a whisk until smooth.
4. Combine flour, remaining brown sugar (about 1/2 cup), cinnamon, 1/4 teaspoon salt, and baking soda in a large bowl; mix well with a whisk.
5. Add the carrot mixture to the butter mixture; stir.
6. Place dough by tablespoonfuls 2 inches apart on baking sheets for a total of 28 cookies (14 per baking sheet); gently tap the dough down to form 2-inch circles.
7. Bake at 350 ° C for 11 minutes or until cooked. Remove from the oven; let stand for 3 minutes. Remove cookies from baking sheets; let cool completely on a wire rack.
8. Mix with the cream cheese, 2 tablespoons of the remaining butter, remaining 1/4 teaspoon of vanilla extract, and the rest of 1/8 teaspoon of salt in a medium bowl; beat with a mixer on medium speed for 3 minutes or until fluffy.
Add the powdered sugar; beat at low speed for 1 minute or until well combined (do not beat too much).
Spread about 1 tablespoon of cheese on the flat side of the cookies; cover with another cookie, flat side down.
Repeat the procedure with the remaining cookies.
Keeps very well in the freezer!
A treat for the whole family!