CREAMY CHICKEN WITH MUSHROOMS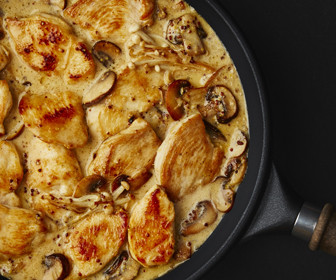 Super simple and delicious chicken dish with an out of this world sauce!
INGREDIENTS
2 Exceldor chicken breasts cut in slices
2 tbsp. (30 ml) olive oil
2 tbsp. (30 ml) butter
4 cups (450 g) mixed mushrooms, sliced
2 French shallots, chopped
1 clove garlic, finely chopped
1/2 cup (125 ml) chicken broth
2 tbsp. (30 ml) whole grain mustard
2/3 cup (160 ml) 35% cream
1 tbsp. (15 ml) tarragon
Salt and ground black pepper
DIRECTIONS
In a large nonstick skillet over high heat, sear chicken slices in olive oil without moving them for about a minute and a half on each side.
Transfer chicken to a separate dish, return skillet to heat, and add butter.
Brown mushrooms over high heat for 3 minutes.
Add shallots and garlic, then continue cooking for 1 minute.
Add chicken broth, mustard, and cream, reduce heat to medium, and simmer uncovered for 10 minutes.
Season with salt and pepper and sprinkle with tarragon.