Bacon-Wrapped Pork Tenderloin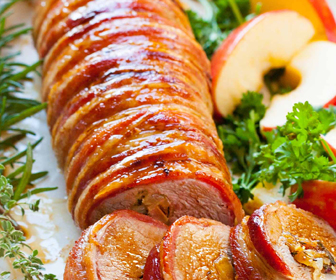 If the name of the dish, Bacon-Wrapped Tenderloin didn't have you sold, then maybe the glaze made with apple juice, brown mustard and brown sugar will. This dish is delicious and sweet. It only takes 10 minutes to get this dinner ready to be cooked.
Total Time: 40 minutes
Number of Servings: 4
Ingredients:
5 Slices of Bacon
1 pork tenderloin 450 g (1 lb)
60 mL (1/4 cup) black pepper 60 mL
(1/4 cup) brown sugar, packed
30 mL (2 Tbsp) apple juice
5mL (1 tsp) brown mustard
a dash of nutmeg
Heat oven to 400ºF.
Wrap bacon around tenderloin; place in a foil-lined pan sprayed with cooking spray. Sprinkle with pepper.
Bake 20 min. or until cooked to 135ºF. Meanwhile, bring remaining ingredients to boil in saucepan on medium heat, stirring occasionally.
Brush meat with sugar mixture. Bake 10 min. or until tenderloin is done (145ºF). Remove from oven; cover loosely with foil. Let stand 3 min. before slicing.
Enjoy this delicate and tasty dinner.