Easy Cheese Enchiladas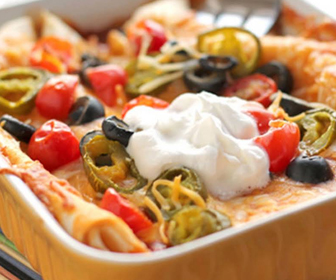 Dinner doesn't get much simpler than an easy, but a tasty place of Cheese Enchiladas. Give it a try tonight in little time at all and let me know what you think.
Total Time 20 minutes
Number of Servings: 6
Ingredients:
6 white corn or even flour tortillas
1 can of enchilada sauce
(3 cups) 720 mL of grated cheddar cheese
(1/4 cup) 60 mL of jalapenos
(1/4 cup) 60 mL of fresh tomatoes
(1/2 cup) 120 mL of sour cream
1/4 cup) 60 mL of olives or black beans
Preheat oven to 425°F. Heat tortillas in the microwave until softened. Sprinkle 1/3 cup of cheese into the center of each tortilla. Roll and place in a 9x11 inch baking dish that has been sprayed with a nonstick cooking spray.
Pour the Old El Paso™ enchilada sauce over the rolled tortillas. Sprinkle remaining cheese on top.
Sprinkle jalapeños, tomatoes, and olives over the enchiladas. Bake in preheated oven for 12-15 minutes, or until cheese is bubbly.
Top with sour cream and serve with your favorite rice, beans, or margaritas!