Grilled Black Bean and Rice Stuffed Peppers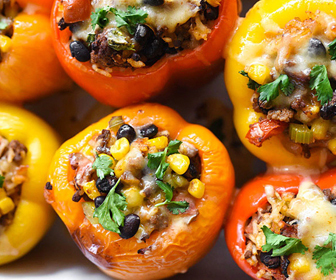 These are fresh, colorful, and packed with flavor. Grill up a veggie bean fiesta with this tasty recipe. From start to finish it only takes 30 minutes.
Number of Ingredients: 10
Total Time: 30 minutes
Number of servings: 6
Ingredients:
1 can of black beans, rinsed and drained
(3/4 cup) 180mL of cooked white rice
4 green onions (1/4 cup)
60 mL of fresh cilantro
(2 tablespoons) 30 mL of vegetable oil
(2 tablespoons) lime juice
1 clove of garlic
(1/4 teaspoon)1.25 mL of salt
3 large bell peppers
1 Roma tomato
Additional chopped fresh cilantro, if desired
Steps

1
Heat coals or gas grill for direct heat. Cut three 18x12-inch pieces heavy-duty foil. Spray with cooking spray.
2
Mix beans, rice, onions, 1/4 cup cilantro, the oil, lime juice, garlic, and salt. Place 2 bell pepper halves on one side of each foil piece. Fill with bean mixture.
3
Fold foil over peppers so edges meet. Seal edges, making tight 1/2-inch fold; fold again. Allow space on sides for circulation and expansion.
4
Cover and grill packets over medium heat 15 to 20 minutes or until peppers are tender. Place packets on serving platter. Cut large X across top of each packet; fold back foil. Sprinkle with tomato and additional cilantro.

Expert Tips

If you like, sprinkle the cooked peppers with shredded Cheddar or Monterey Jack cheese.
Any color bell pepper can be used for this recipe. For fiesta flair, try using a variety of colors.
These meatless stuffed bell peppers can be served as a main dish with salad and bread, or they make a nice side dish with pork chops or chicken.