Decadent Maple Pudding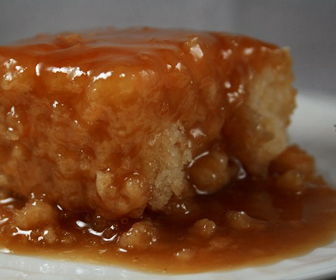 This traditional Canadian recipe will become a family favorite whether you serve it with or without ice cream. The sauce is simply divine!
INGREDIENTS
1 can 19 oz (540 ml) maple syrup
2 cups (500 ml) 35% cream
1 1/2 cups (225 g) unbleached all-purpose flour
2 tsp (10 ml) baking powder
1/4 tsp (1 ml) salt
1/2 cup (115 g) unsalted butter, softened
1 cup (210 g) sugar
2 eggs
3/4 cup (180 ml) milk
1 tsp (5 ml) vanilla extract
PREPARATION
Put the grill at the center of the oven. Preheat the oven to 400 ° F (200 ° C).
In a saucepan, bring the maple syrup and cream to a slow boil.
Pour into a ceramic dish with a 10 cups (2.5 liters) capacity.
In a bowl, combine the flour, baking powder and salt.
In another bowl, cream the butter with the sugar using an electric mixer.
Add the eggs to the butter mix, one at a time, and whisk until the mixture is smooth.
On low speed, stir in the dry ingredients alternating with milk and vanilla.
Using an ice cream scoop or a large spoon, spread the batter over the hot syrup.
Place the mold on a baking sheet.
Bake for 40 minutes or until a toothpick inserted in the center of the cake comes out clean.
Serve warm or cold.
Watch the video for this recipe (in French)