FAMOUS IKEA SWEDISH MEATBALLS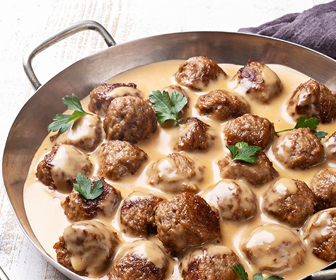 IKEA has decided to reveal the secret of its meatballs by sharing the recipe for them on its social networks.
INGREDIENTS
FOR THE BALLS
500 gr (1 lb) lean ground beef
250 gr (1/2 lb) of ground pork
1 finely chopped onion
1 garlic clove, crushed
100 gr (3 1/2 oz)of bread crumbs
1 egg
5 teaspoons of milk
Salt and pepper (generously)
INGREDIENTS
FOR THE SAUCE
Oil
40 gr (1 1/2 oz) of butter
40 gr (1 1/2 oz) of flour
150 ml (5 oz) vegetable broth
150 ml (5 oz) beef broth
150 ml (5 oz) of 35% cream
2 teaspoons of soy sauce
1 teaspoon of Dijon mustard
Preparation
Mix the beef and pork with your fingers, add the onions, garlic, bread crumbs, egg, milk and season.
Form the mixture into small balls with your fingers and let stand in a refrigerator for at least 2 hours.
In a frying pan over medium heat, add a little oil and then brown the meatballs until they have a nice golden color.
When your meatballs are well grilled, place them in a baking dish and continue cooking for 30 minutes at 160 or 180 °C (325 or 350 °F).
For the sauce, melt the butter in a saucepan, add the flour and stir for 2 minutes.
Add the vegetable and beef broths while continuing to stir.
Then add the cream, soy sauce, and Dijon mustard and turn up the heat stirring so that the sauce thickens.
When everything is ready, serve your meatballs with your favorite potatoes (mashed, fried or baby potatoes)