FROZEN MARGARITA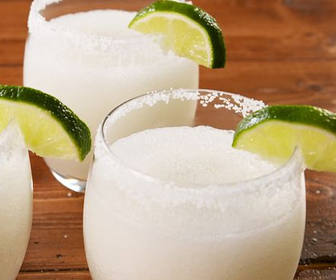 This Frozen Margarita Cocktail mixes the original cocktail with crushed ice to make a truly refreshing drink!
I like to fill the glasses with crushed ice and pour the drink on top.
INGREDIENTS
For rim:
2 tablespoons of salt (approximately)
1 lime wedge
For the Margaritas:
2 doses (100 ml or 1/3 cup) of tequila
1 shot (50 ml or 2 1/2 tablespoons) triple sec or Cointreau
Juice of 2 limes (1/2 cup lime juice)
2 tablespoons of simple syrup (OPTIONAL)
2 cups of ice
Lime slices for garnish/serve
INSTRUCTIONS
Pour the salt on a small plate; rub the lime wedge on the edge of each glass. Dip each glass in the salt and set aside. (Or keep in the fridge to cool.)
Mix Tequila, Triple Sec (or Cointreau), lime juice, simple syrup (if using), and ice until the ice is crushed and the consistency of melting snow.
If you prefer, you can make the ice and add the other ingredients afterward.
Add more ice if needed. Serve immediately.
NOTES
If you find the drink too strong, add 1/4 cup lemonade (or 7up) to dilute the alcohol and add a little sweetness.
Make ahead and freeze, take out of the freezer and serve. Alcohol keeps everything from freezing solid.