NORDIC SHRIMP BITES ON BOSTON LETTUCE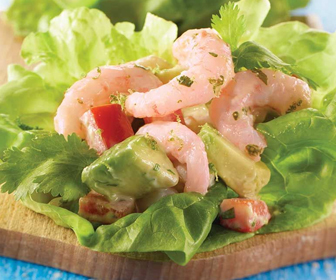 Light, crisp, and fresh, perfect for welcoming your friends whatever the occasion.
INGREDIENTS
150 g (5 oz) Nordic shrimp (Matane shrimp)
½ avocado, diced
60 ml (¼ cup) red pepper, finely diced
45 ml (3 tbsp.) Chopped cilantro
15 ml (1 tbsp.) Mayonnaise
5 mL (1 tsp.) Lime zest (about 1 lime)
10 ml (2 tsp.) Lime juice
3 drops of Tabasco-type sauce
To taste, salt and pepper
12 Boston lettuce leaves
METHOD
In a medium bowl, combine the shrimp, avocado, bell pepper, cilantro, mayonnaise, hot sauce, and lime zest and juice. Salt and pepper.
Place the lettuce leaves on a serving platter and garnish the center with the shrimp mixture.
Roll the shrimp mixture in the lettuce leaf to enjoy.