Oka-Stuffed Chicken Breasts with Maple Glaze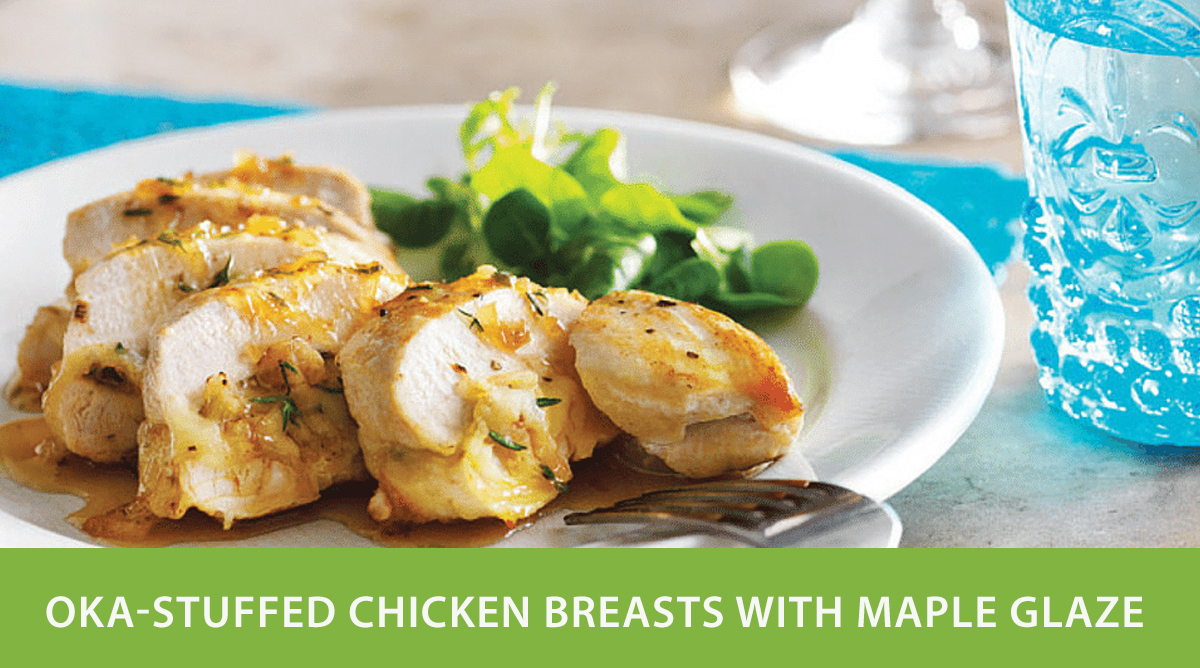 Oka-Stuffed Chicken Breasts with Maple Glaze
The maple glaze makes this dish extra special. It can also be substituted with honey if you don't have maple syrup on hand.
Ingredients
Pure Olive Oil 1 1/2 tbsp 23 mL

Spanish onion, halved and thinly sliced 1 0

Oka cheese (rind removed), grated 1 wheel 225 g

chopped fresh thyme, divided 1 tbsp 15 mL

salt 1/4 tsp 1 mL

pepper 1/4 tsp 0

skinless, boneless chicken breasts with filets 8 0

Pure Maple Syrup 3 45 mL

Chicken Broth - 35% Less Sodium 1/2 cup 125 mL

cold butter 1 tbsp 15 mL
Directions
Heat 1/2 tbsp (7 mL) oil in a large saute pan over medium-high heat. Add onions and saute until well caramelized, 12 to 15 min. Remove from pan and let cool completely. Measure out 1/2 cup (125 mL) cooked onions and finely chop; set aside for sauce.
Combine cheese, remaining cooled onions and 1/2 tbsp (7 mL) thyme; season lightly and mix well.
Preheat oven to 375 degrees fahrenheit (190 degrees celsius). Lay chicken breasts, smooth side down, on a cutting board. Cut a pocket in each breast with a sharp knife. Divide cheese and onion filling evenly between pockets. Cover with chicken filet.
Heat remaining oil in same saute pan over medium-high heat. Season chicken with salt and pepper and sear until golden brown, 1 to 2 min. per side. Place in a roasting pan and cook 20 to 25 min., or until the internal temperature is 170 degrees fahrenheit (77 degrees celsius). Let rest 5 min.
Return skillet to medium-high heat; pour maple syrup in pan to deglaze. Stir in broth, reserved caramelized onions and remaining thyme. Bring to a boil and reduce by half. Remove pan from heat, add any juices from the resting chicken and swirl in cold butter. Serve chicken breasts with maple sauce.