Pasta with Creamy Rosé Sauce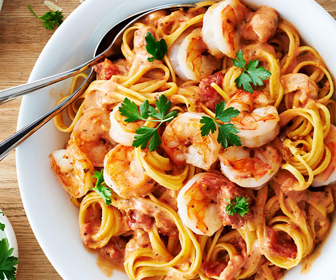 A simple, tasty meal ready in no time!
PREPARATION TIME 5 minutes
COOKING TIME 15 minutes
MAKES 8 servings
Ingredients
ROSÉ SAUCE
1 ½ tbsp butter
1 ½ tbsp Robin Hood Original All-Purpose Flour
1 can Carnation Regular, 2% or Fat-Free Evaporated Milk
1 tsp salt
2 cups tomato sauce
1 cup freshly grated Parmesan cheese
PASTA
1 pkg pasta (linguine, spaghetti, angel hair, farfalle, penne)
Directions
Carnation Simple White Sauce:
Melt butter in a medium saucepan. Add flour and cook over low heat, stirring for 1 minute.
(Tip! It's best to let the butter soften at room temperature, but in a pinch, you can use the microwave. Check every 10 seconds to see if it is soft.)
Whisk in evaporated milk and salt. Bring to a boil, lower heat, and cook for 5 minutes, stirring occasionally until the sauce has thickened.
Rosé Sauce:
Stir in tomato sauce and cheese to Simple White Sauce until just combined.
Cook pasta according to package directions.
Toss hot pasta with hot sauce. Serve immediately
Tips:
Sauté a few shrimps or scallops or even chicken strips to make this a hearty meal.
Add oregano, thyme, parsley, and chili sauce to add flavor.