SHRIMPS PAD THAI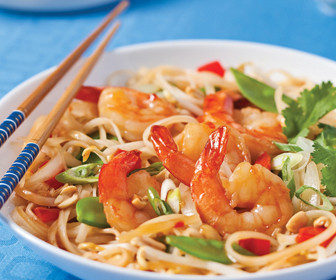 There is now a multitude of pad thai sauces in the supermarket. Find the one that suits you best to whip up this typical Thai cuisine dish in no time!
Ingredients
Rice noodles 1 box of 198 g
Shrimp 20, size 21/25, raw and peeled
Pad Thai Sauce 160 ml (2/3 cup)
Snow peas 10, thinly sliced
1/2 bell pepper, diced

Also:
30 ml (2 tbsp.) Canola oil
1, minced onion
Optional:
80 ml (1/3 cup) peanuts
2, minced green onions
30 ml (2 tbsp.), Chopped fresh cilantro
Preparation
Rehydrate the noodles according to the directions on the package.
In a large skillet or wok, heat the oil over medium heat.
Sear the shrimp and onion for 2 minutes.
Add the pad thai sauce and cook for 1 minute.
Stir in the drained noodles, snow peas, bell pepper, and, if desired, peanuts.
Sauté for 2 to 3 minutes.
Add green onions and cilantro when ready to serve.