Slow Cooker Peach and Blueberry Cobbler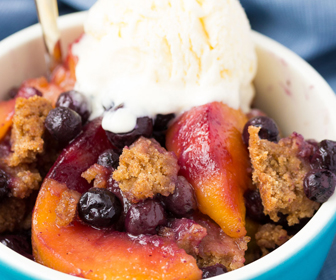 Easy prep cobbler that truly doesn't take any time at all in the slow cooker.
Ingredients
3 cups Peach slices (fresh or frozen and thawed)
1 cup Blueberries (fresh or frozen and thawed)
2 tablespoon Cornstarch
¼ cup Light Brown Sugar
1-15.25 ounce Vanilla Cake Mix (which is a standard cake mix - any brand will do even gluten free)
¼ teaspoon Cinnamon*
¼ teaspoon Nutmeg*
4 ounces Unsalted Butter, cold cut into small cubes, plus 4 tablespoons melted Unsalted Butter (not needed until 3 hours cooking so wait to prepare)
Instructions
Spray the insert of a 4 quart (or larger) slow cooker liberally with no-stick spray (alternatively it can be greased with unsalted butter).
Add the peaches and blueberries; toss with the cornstarch. Sprinkle with the brown sugar.
Stir the spices (cinnamon and nutmeg OR Chinese five spice) into the unprepared/dry cake mix.
Sprinkle the cake mix evenly over the top of the fruit mixture.
Evenly distribute the small pieces of cold butter on the top of the cake mix.
Place one paper towel on top of the slow cooker insert (fully covering the opening but not touching the food) and seat the lid on top of it (this helps absorb condensation from the cobbler to allow the top to become crisper).
Cook on HIGH for 3 hours.
At 3 hours, drizzle the melted butter evenly over the top of the cake mixture and using a dining fork gently turn the butter into the dry cake mix on the top.
Remove the paper towel and continue to cook on HIGH for 30 minutes or until the top is cooked (no dry ingredients showing).
Serve with a big scoop of vanilla ice cream!