STRAWBERRY BANANA BREAD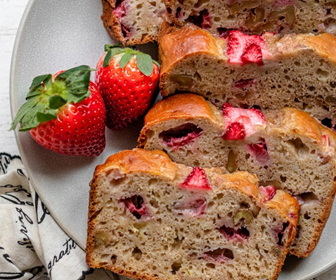 A delicious twist on the classic banana bread.
Add more strawberries and fewer bananas and it's delicious. Mix strawberries and rhubarb or replace the strawberries with raspberries and enjoy!
Ingredients
1 ½ cup all-purpose flour
1 teaspoon of cinnamon
½ teaspoon of baking soda
½ teaspoon of baking powder
¼ teaspoon of salt
2 eggs
½ cup granulated sugar
¼ cup Greek yogurt
1 cup mashed ripe banana
¾ cup diced fresh strawberries
½ cup chopped walnuts or other seeds and nuts.
Instructions
Preheat the oven to 350 ° F and line the loaf pan with parchment paper protruding from the sides.
In a large bowl, combine the flour, cinnamon, baking soda, baking powder, and salt. Beat together until blended; Leave besides.
In a separate large bowl, combine the wet ingredients, including the eggs, sugar, Greek yogurt, and mashed bananas, until well combined. Gently add the strawberries and chopped walnuts.
Pour the dry ingredients into the wet ingredients and stir gently. Do not over mix.
Transfer the dough to the prepared bread tray, spreading evenly and bake for 50 to 60 minutes, or until a toothpick inserted in the center comes out clean. If the top starts to get too brown, cover with foil after 35 minutes.
Remove from the oven and let cool for about 10 minutes before transferring to a wire rack to cool completely.
Store in an airtight container at room temperature for up to 5 days or freeze for up to 3 months.
Notes
Storage: Store in an airtight container at room temperature or in the refrigerator for up to 5 days. You can freeze bread for up to 3 months. Thaw just overnight in the refrigerator and bring to room temperature before serving.
Substitutes: For best results, follow the recipe as is. However, here are a few common substitutes that would work well in this recipe.
Instead of Greek yogurt, you can use sour cream or a neutral oil using a 1: 1 substitution.
I tried this recipe with white whole wheat flour, but it will work with any other all-purpose flour.
To do this gluten-free, use a gluten-free all-purpose flour mixture. Don't just substitute for almond flour or coconut flour.
Substitute cane sugar with other types of granulated sugar, reduce or you can skip it all together.