STUFFED BREAD WITH BUFFALO CHICKEN AND CHEESE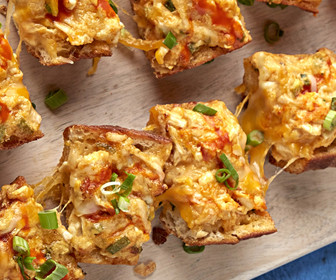 This recipe turns bread into a delicious appetizer. It has all the flavors of Buffalo chicken on a grilled baguette.
Ingredients
3/4 cup Miracle Whip Original Spread

1/4 cup Kraft Rancher's Choice Dressing

1/3 cup Buffalo wing sauce, divided

2 green onions, sliced, divided

2 cups shredded cooked chicken

2 cups Cracker Barrel Shredded Tex Mex Cheese

1/3 cup blue cheese

1 baguette (350 g)
Preparation
Heat oven to 375°F.
Mix dressings and 3 Tbsp. wing sauce in large bowl until blended.
Reserve 1 Tbsp. onions for later use.
Add remaining onions to dressing mixture along with the chicken and cheeses; mix lightly.
Cut baguette lengthwise in half.
Remove bread from insides of both baguette halves, leaving 1-inch-thick shells.
Fill with chicken mixture; place on parchment-covered baking sheet.
Bake 30 to 35 min. or until heated through.
Drizzle with remaining wing sauce; sprinkle with reserved onions.
NOTE:
Get a headstart
You can make this delicious appetizer ahead of time. Garnish the hollow baguette halves with the chicken mixture, wrap them tightly, then refrigerate them for 2 days at most before cooking (unpacked) as directed, increasing the cooking time if necessary until the chicken mixture is hot.
How to use the removed bread center
Let dry on the counter and pass the dry bread through the food processor using the pulse function until the desired breadcrumb consistency is obtained. Then keep it in a resealable plastic bag until needed.