Summer Sangria Recipe (+ a Tasty Recipe for Kids)
Ratings & Reviews
---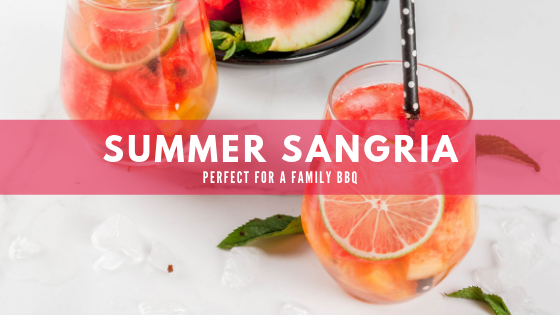 PREP TIME

COOKING TIME

Total Time

This is one of my favourite summer sangria recipes! A refreshing classic with a smack of citrus, I can adjust the fruit and amount of alcohol depending on the party.
The combination of fruit I use in my summer sangria, whether it's white or red, typically depends on three things:
My colour theme (i.e. I love using circle-sliced lemons and limes for a pop of colour to my table.)
What's in season (check out your local market!)
And of course, personal preference.
Feel free to make your own substitutions depending on what you have on hand and what your family and friends prefer.
Enjoy your new favourite summer drink and let me know in the comments if you find any great fruit combinations!
Looking for White Summer Sangria?
Sometimes whitie wine is more refreshing on those scorching, summer days. Lucky for you, changing your red summer sangria to white is super simple.
Follow the red summer sangria recipe, but make the following substitutions:
Use a 750ml bottle of your favourite white wine (I prefer Sauvignon Blanc or Pinot Grigio).
Keep the lemons and limes, but instead of strawberries and oranges use peaches and raspberries.
Use apple brandy or liquor instead of vodka or gin (if you're adding extra shots).
Use 1 Cup of lemonade instead of orange juice.
Use 3 Cups of Club Soda instead of gingerale.
You can also always add less sugar to this summer sangria recipe if you find it too sweet or to meet dietary restrictions.
Kid-Friendly Summer Sangria
While the adults are enjoying their drinks, give the kids a delicious taste of summer too. Making a non-alcoholic sangria is very easy, just make sure you're buying enough ingredients for both!
Use white or red grape juice, cranberry juice, or a fruit juice fusion like cranberry-raspberry in place of the wine.
You can still use club soda or gingerale, but I find a lemon-lime soda like 7Up goes over best.
You know your kids best, but popular fruits seem to be lemons, limes, oranges, strawberries, watermelon, and peaches or nectarines.
Follow the recipe instructions as per usual, adding the soda last (but reducing it to just 1.5 Cups) and serving over ice with fruits as a garnish.
Be creative with your sangria flavours and fruit combinations. Cherries, apples, grapefruit, and kiwi are great choices, too!
INGREDIENTS
---
1 750 ml bottle of red wine (I prefer using a Merlot or Shiraz)
1 Lemon
1 Orange
1 Lime
2 Tbsp sugar
1/2 Cup orange juice
4 Cups of ginger ale
1 Cup of strawberries (frozen or fresh)
One 8 oz can of diced pineapples, including the juice
2 shots of gin or vodka (optional)
INSTRUCTIONS
---
1.

Slice the lemon, lime, and orange into wedges (keep back a few for garnish). Squeeze them into a large pitcher, then toss them in!

2.

Slice 1/2 cup of strawberries and add them to the pitcher (or if frozen, just add them as is).

3.

Add 1/2 Cup of orange juice, 8 oz can of pineapples and the juice, 2 Tbsp of sugar, and the bottle of wine. Give it a stir.

4.

Add 2 shot of gin or vodka (optional)

5.

Chill overnight for 24 hours.

6.

Add 4 Cups of ginger ale and ice just before serving. Use the leftover sliced lime, lemon, and orange as garnish.

7.

If you don't have 24 hours to wait, you can serve your summer sangria right away over lots of ice. (I've even added some extra frozen fruit for an extra refreshing chill!)
Nutritional Information
---
Carbohydrate (g)

0

Protein(g)

0

Fiber (g)

0

Sugar (g)

0
Sodium(g)

0

Trans Fat(g)

0

Saturated Fat(g)

0

Unsaturated Fat(g)

0
---