This salad stops bloating and gives you a flat stomach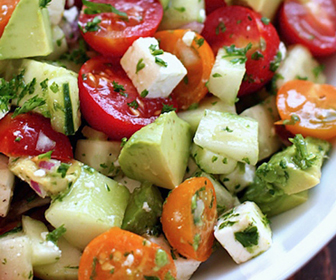 The clever mixture of the foods and herbs in this salad gives it surprising properties.
You will be full after eating and, most importantly, you will feel satisfied for hours to come. Fats and accumulated water are also eliminated.
Ingredients:
- 1 cup of tomatoes or cherry tomatoes
- 1 cup of avocado
- 2 cups of cucumbers
- 2 slices of finely chopped red onion
- A little vegetable feta or almond puree
- 2 tablespoons chopped parsley
- 2 tablespoons of balsamic vinegar
- 2 tablespoons of olive oil
- 1 pinch of pepper
- 1 pinch of sea salt
Preparation:
In a small bowl, combine the olive oil, balsamic vinegar, pepper, and salt.
In a bowl, mix the feta or almond paste with the onion, add the avocado, tomatoes, and cucumbers, peeled and diced.
Then add the vinaigrette and mix before serving.
Remember that to succeed in your salads, prefer organic and fresh foods.
You only need 15 minutes to prepare this salad and you can enjoy it with the family!
Perfect for your next lunch with friends.