Vintage tomato soup recipe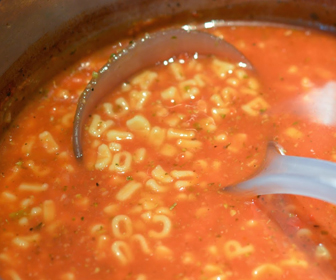 A delicious simple recipe sure to please everyone!
Serve with a grill cheese and a pickle for the ultimate vintage experience.
PREPARATION 15 minutes
COOK 15 minutes
TOTAL 30 minutes
PORTIONS 4 servings
INGREDIENTS
4 cups hot water
2 tablespoons vegetable oil
1 large onion, finely chopped
3/4 cups soup noodles (alphabet, stars, etc.)
1 can tomato peeled with fine herbs
1 cube chicken stock
basil to taste
pepper to taste
PREPARATION
Fry the onion in oil for 5 minutes over medium heat.
Crush the tomatoes with a pestle to coarsely grind them.
Incorporate them in the onion mixture.
Simmer for 2 minutes.
Add hot water, chicken cube and spices to taste.
Bring to a boil, then add the noodles.
Stir and simmer for 15 minutes.
NOTE : water and chicken cube can be replaced with 1 liter (4 cups) chicken broth.