Watermelon Fries with Refreshing Coconut Lime Dip Kids Love
Ratings & Reviews
---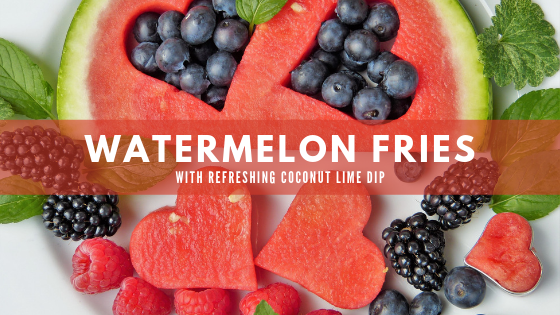 PREP TIME

COOKING TIME

Total Time

Nothing says summer like a juicy bite into a slice of watermelon - until you eat some of these amazing watermelon fries.
It's pretty hard to find a healthy snack that's family-friendly and your kids actually enjoy.
I think that's why this new trendy summer recipe is starting to pop-up everywhere!
Why Watermelon Fries?
There are many ways to make your watermelon fries (I've included some alternatives below) but there are so many reasons I can't rave enough about this summer snack recipe:
You can make it for under $8.00
Watermelon fries are perfect for a summer BBQ
They're low-fat and gluten-free
Vegetarian friendly!
They can be made vegan and dariy-free easily
Kids ACTUALLY like them
Love Watermelon Fries? Try These Alternatives
Here are some alternatives to the classic watermelon fries recipe in case you have restrictions or are feeling more adventurous:
Vegans: Substitute non-dairy yogurt in the dip, like Silk (FYI: Silk is soy-based, so beware if you have allergies).


Keto-Friendly: Substitute greek yogurt for more protein and less sugar (FYI: 1/2 cup of watermelon = 5.4g of net carbs, so you're good!)


Reduced Sugar: Swap out the sugar in the dip for honey or a natural sweetener and choose a low-sugar yogurt option, like certain greek and organic brands.


Spicy Enthusiasts: Try sprinkling a combination of seasoning salt and chili powder on the watermelon fries! (I add a bit of paprika and lemon pepper, too.)


Sweet and Savoury: Sprinkle sea salt or seasoning salt on your watermelon fries before serving.


Kid-Friendly: Use dollar store cookie cutters to cut your watermelon fries into fun shapes like hearts, stars, or emojis!


Adults Only: Cut a small hole in the watermelon 1 day prior to serving. Remove the cap from your favourite vodka, gin, rum, or liqouor bottle (may I suggest watermelon vodka?) and empty it into your melon via the hole. Allow it time to drain. Let the melon soak, hole-up, in the fridge until ready to slice and serve. The watermelon fries may be a bit less crisp with the added liquid, but just insert toothpicks and enjoy responsibly.
Declicious AND healthy for everyone in the family, enjoy your watermelon fries poolside, laying on the beach, playing at the cottage, or just hanging in the backyard.
Have a great summer!
Hungry for more family-friendly recipes?
INGREDIENTS
---
1 watermelon
1 tsp sea salt and/or chili powder (optional)
1 cup of coconut yogurt
1 lime (zest and juice)
1 tbsp of sugar (or honey as a natural substitute)
INSTRUCTIONS
---
1.

Grate the lime zest and combine in a bowl with yogurt, lime juice and sugar. Set in fridge to chill.

2.

Carefully slice the rind from your melon and cut the flesh into strips, creating your watermelon fries. Arrange them on plate or serving tray and add desired seasonings, if you wish. (A squeeze of lemon or lime juice over them can also be refreshing.)

3.

Serve your watermelon fries with the dip and enjoy!
Nutritional Information
---
Carbohydrate (g)

0

Protein(g)

0

Fiber (g)

0

Sugar (g)

0
Sodium(g)

0

Trans Fat(g)

0

Saturated Fat(g)

0

Unsaturated Fat(g)

0
---