Cheddar Stuffed Pretzel Nuggets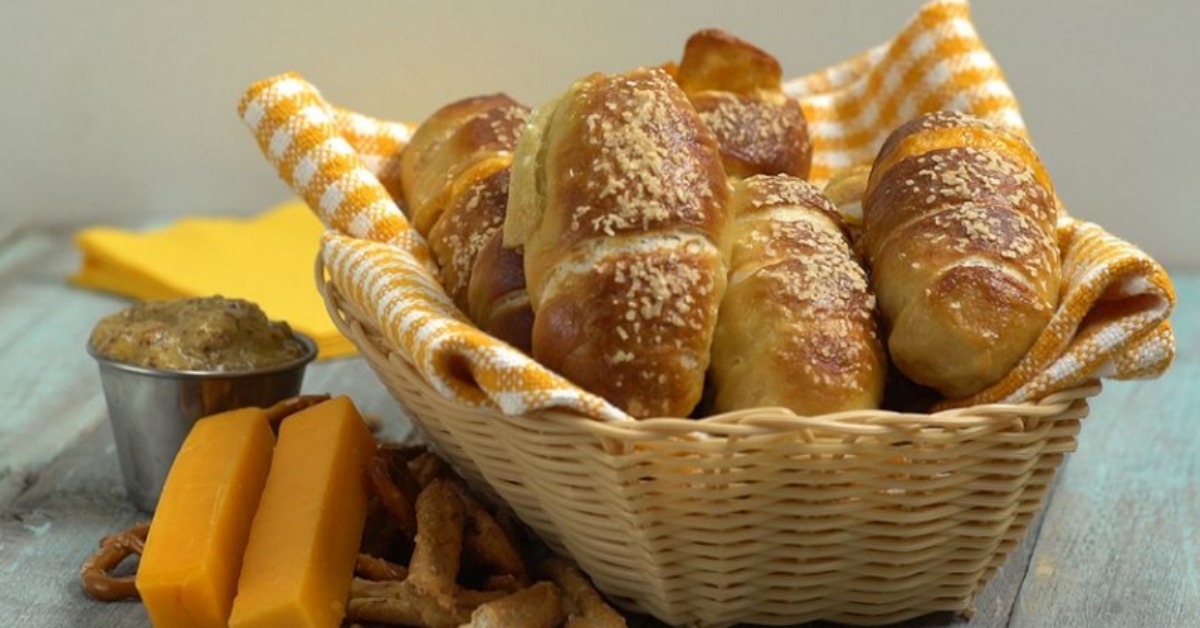 Love going to the ballpark and snacking on pretzel nuggets? Make this copycat Cheddar Stuffed Pretzel Nugget recipe at home!
Ingredients:
¾ cup warm water
1 tablespoon light brown sugar
1 ¼ teaspoons active dry yeast
4 tablespoons unsalted butter, melted
¾ teaspoon sea salt or kosher salt
2 to 2 1/2 cups all-purpose flour
10 cheddar cheese sticks, cut in half
3 quarts water
⅔ cup baking soda
1 whole egg, beaten
Coarse sea salt

Directions:
To make pretzel dough: Combine water, sugar and yeast in bowl of a stand mixer and mix with dough hook until combined. Let sit for 5 minutes.
Add butter, salt and 4 1/2 cups flour to mixture and mix on low speed until combined. Increase speed to medium and continue kneading until dough is smooth and begins to pull away from sides of bowl, about 3 to 4 minutes. If dough appears too wet, add additional flour, 1 tablespoon at a time. Remove dough from bowl, place on a flat surface and knead into a ball with your hands.
Coat a large bowl with oil or cooking spray, add dough to bowl and turn to coat it with oil. Cover with plastic wrap and place in a warm spot until dough doubles in size. This will take about an hour.
Preheat oven to 425ºF.
Remove dough from bowl and place on a flat surface. Divide dough into 18-20 equal pieces. Roll each piece into a 5-inch long rope. Coil dough around cheese stick half, sealing dough at both ends so the cheese is enclosed. Repeat with remaining dough.
Next, bring water to a boil in a large pot. Once boiling, carefully add the baking soda.
Boil pretzels in the water solution, a few at a time, for 30 seconds, splashing the tops with warmed water using a spoon.
Remove with a large flat slotted spatula or a spider utensil.
Place pretzels on a baking sheet, brush tops with egg wash and season liberally with sea salt. Bake for 15 to 18 minutes or until pretzels are golden brown. Enjoy warm!
Source: Shared Food