Crispy Pork Carnitas Sliders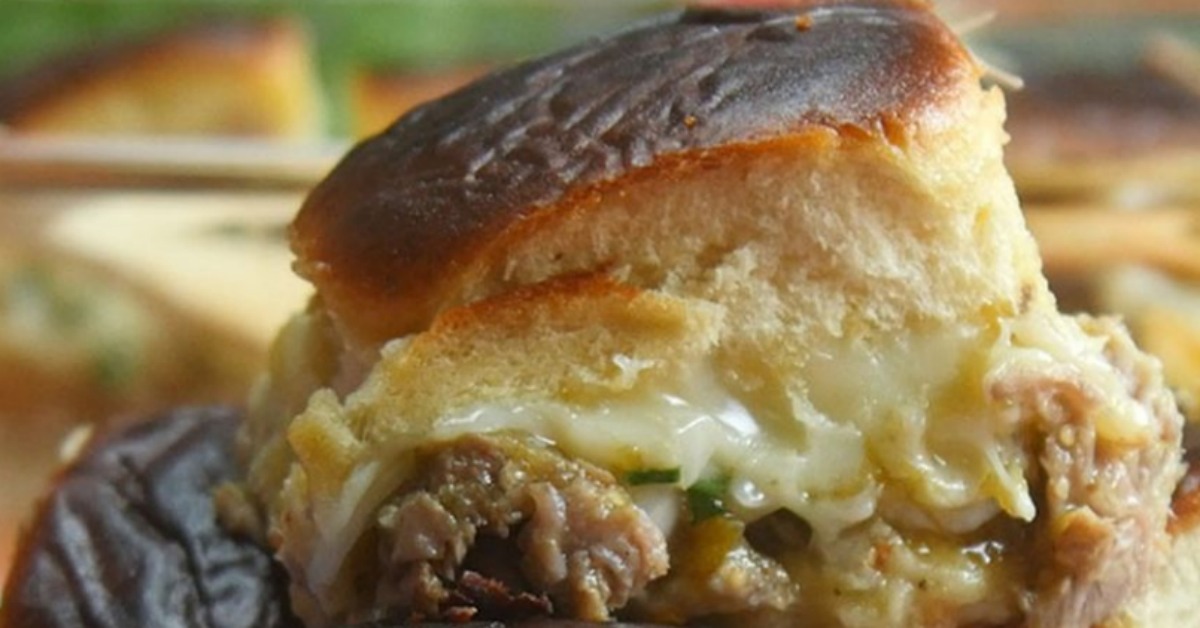 This Cinco de Mayo, make something delicious and flavorful...no, not tacos or fajitas - Crispy Pork Carnitas Sliders!
Ingredients:

For the Pork Carnitas:

3 pounds boneless pork butt (shoulder)
8 cloves garlic, peeled
1/4 cup olive oil
1 orange, juiced, orange parts of peel removed and sliced into thin strips
1 tablespoon kosher salt
2 bay leaves, torn in half
1 teaspoon ground black pepper
1 teaspoon ground cumin
3/4 teaspoon ground cinnamon
1/2 teaspoon Chinese 5-spice powder

For the Sliders:

2 cups mozzarella, shredded
1 jar salsa verde
1 package Hawaiian dinner rolls
1 medium white onion, diced fine
1/2 cup fresh cilantro leaves
2 cloves garlic, minced
1\2 cup butter, melted

Directions:

Preheat oven to 275 degrees.
Remove fat from pork; cut pork meat into 2-inch cubes and roughly chop fat.
Mix pork, garlic, olive oil, orange peel, orange juice, salt, bay leaves, black pepper, cumin, cinnamon, and 5-spice powder together in a bowl until pork is coated completely. Transfer mixture to a 9x13-inch baking dish. Place baking dish on a baking sheet and cover baking dish tightly with heavy-duty aluminum foil.
Bake in the preheated oven until pork is fork-tender, about 3 1/2 hours.
Set oven rack about 6 inches from the heat source and preheat the oven's broiler.
Transfer meat to a colander set over a bowl. Remove garlic, bay leaves, and orange peels from baking dish and pour accumulated juices from the baking dish over meat in colander into the bowl. Return meat to the baking dish and drizzle accumulated juices over each piece of meat.
Cook meat under the preheated broiler for 3 minutes. Drizzle more accumulated juices over meat and continue broiling until crispy, 3 to 5 minutes. Transfer pork to a plate and drizzle more accumulated juices over the top, then change the oven temperature to 375 degrees.
To assemble the sliders, cut Hawaiian dinner rolls lengthwise with a bread knife.
Place bottom of slider buns into a 9x13 baking dish.
Cover evenly with cooked pork carnitas, salsa verde, white onion, cilantro and cheese.
Melt butter with garlic in microwave.
Place the top of the buns on top, then brush with garlic butter and bake for 15 minutes.
Source: Shared Food