Salted Caramel Pretzel Pecan Bites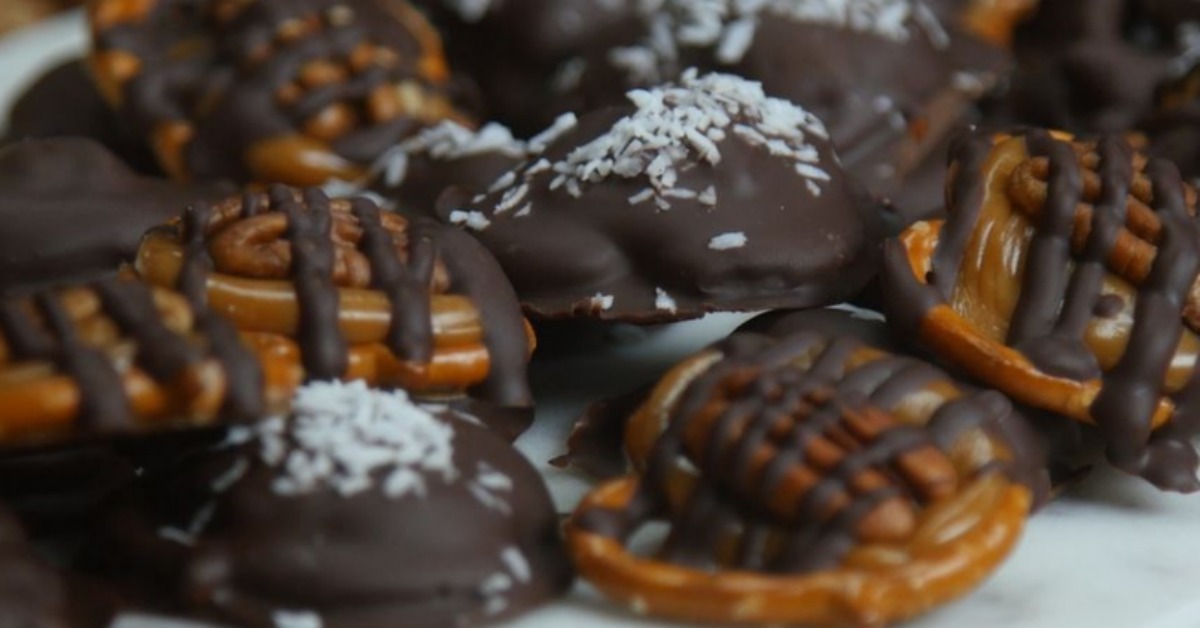 Once you try this delicious salty/sweet combo, you'll be hooked!
Ingredients:

40 whole mini pretzels
40 caramels, unwrapped
10 ounces, Baker's semi-sweet chocolate
1/4 teaspoon cinnamon
1/2 teaspoon vanilla
1 tablespoon coconut oil
40 whole pecan halves
1/2 cup shredded coconut, optional

Directions:

Preheat oven to 325 degrees.
Line a large baking sheet with parchment paper or a silicone baking mat. Arrange the pretzels in neat rows on the pan, then top each pretzel with an unwrapped caramel. Place the pan into the oven for 6 minutes, or until the caramels are softened, then remove the pan from the oven.
Gently press a pecan half onto each caramel, then set aside and cool completely.
In the meantime, melt the chocolate, coconut oil, cinnamon, and vanilla. You can do this on the stove top or in the microwave.
When the caramel covered pretzels have cooled, remove them from the baking sheet.
Place a few in the bowl of melted chocolate, stir them around to coat completely, then remove them one at a time, allowing excess chocolate to drip off; repeat until all pretzels have been dipped; transfer to a parchment paper lined baking sheet. Top wet chocolate with coconut, if desired.
Allow chocolate coating to cool completely before serving.
Source: Shared Food