Free Advil Dual Action Back Pain Sample
October 23, 2023, BY Emma Craig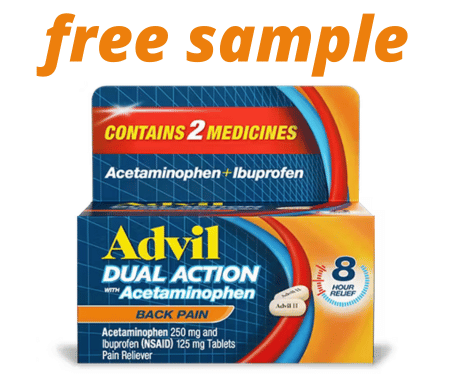 Unlock Relief: Your Guide to a Free Advil Dual Action Back Pain Sample!
Hey there, relief seekers! 🌟 I stumbled upon something fantastic, and I'm eager to spill the beans. You have the chance to experience the power of Advil Dual Action Back Pain for free! Now, before you dismiss it as just another promotion, let me walk you through how you can get your hands on this sample without spending a penny.
1. Visit the Offer Page: Head to the link below, where the gates to pain relief await.

This isn't your average offer; it's a genuine opportunity to try a product that fights back pain in not one but two ways.
2. Sign Up for a Free Sample: Simply sign up for a free sample, and voila! Supplies are limited, so swift action is your best ally. Think of it as a ticket to an eight-hour relief journey.
3. Dual Action Formula: Advil Dual Action Back Pain is not your run-of-the-mill pain reliever. It tackles pain from two angles—Acetaminophen blocks pain signals, while Advil targets pain caused by inflammation. Quick relief that lasts—now, who wouldn't want that?
4. Embrace the Relief: Once you've signed up, brace yourself for the arrival of your free sample. It's not just a product; it's a potential game-changer in your battle against tough back pain.
This isn't an ad; it's an invitation to experience relief firsthand. Don't miss out—act now while supplies last!
Ready to claim your free Advil Dual Action Back Pain sample? Here's to a pain-free day! 🌈✨
Want more free stuff? Check out our Free Samples Page