Score a Free Sample of Lancôme La Vie Est Belle Perfume
Hello, fragrance enthusiasts! Today, I have an exciting opportunity to share with you. Lancôme is giving away free samples of their exquisite La Vie Est Belle perfume, and I'm here to explain how you can score this delightful scent for yourself. It's essential to clarify that it's not me or my website offering this sample; it's all about helping you discover how to get it.
How to Get Your Lancôme La Vie Est Belle Perfume Sample:
Lancôme is offering this wonderful opportunity through sponsored posts on Facebook and Instagram. To increase your chances of snagging a free sample, follow these simple steps:
1.


Like and Follow Lancôme Official Pages: Start by liking and following the official Lancôme pages on both Facebook and Instagram. This is your entry ticket to the world of exquisite fragrances.
2. Engage with the Brand: Show your love for Lancôme by actively engaging with their content. Like their recent posts, leave comments, and take a moment to watch their stories or videos. This helps you become a part of the Lancôme community.
3. Visit Lancôme's Website: Head to the Lancôme USA website and check out the La Vie Est Belle perfume. This is not just about grabbing a sample; it's an opportunity to explore their range and learn more about the fragrance.
4. Keep an Eye on Your Social Feed: After completing these steps, stay tuned to your Facebook and Instagram feeds. With a bit of luck, you'll come across a sponsored post that looks something like the one below. This post will contain a link to the form where you can request your free sample.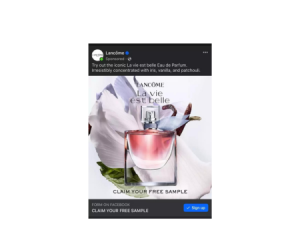 It's important to emphasize that this isn't about pushing a product; it's about sharing the joy of experiencing a premium fragrance. La Vie Est Belle is known for its delightful and captivating scent, and this is your chance to have it in your collection.
To boost your chances, regularly interact with Lancôme's content. The more you engage, the likelier you are to spot the sponsored post in your feed.
So, if you're a fragrance connoisseur or just someone who loves exploring new scents, don't miss out on this opportunity. Follow these straightforward steps, and soon you'll have a sample of Lancôme's La Vie Est Belle perfume arriving at your door. Enjoy the delightful aroma!